by Lisa Sheppard, Prairie Research Institute
The male squirrel nicknamed Pinto Bean was popular among students on campus and became a social media star with its own Wiki page. Its age was unknown. Pinto Bean died on Oct. 8, 2022, apparently from being struck by a vehicle.
Pinto Bean, the beloved piebald squirrel that lived and died on the University of Illinois campus, is back. The squirrel's taxidermied remains are now on display at the Forbes Natural History Building lobby, where visitors can see its rare gray and white coloration that attracted fans and followers at the university.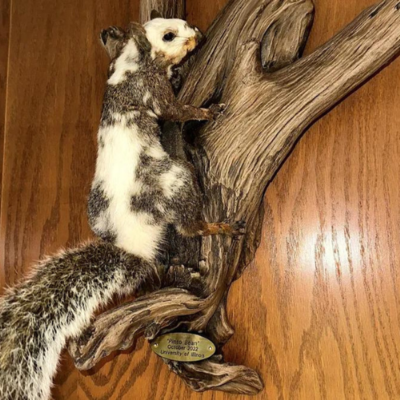 The Forbes Building is a fitting location for Pinto Bean after his death, according to Eric Schauber, Illinois State Biologist at the Illinois Natural History Survey (INHS), a unit of the Prairie Research Institute.
"The INHS has been the guardian and memory of Illinois' biological resources since the 1850s," Schauber said. "This is another page in that history, and one that is tied to our campus here."
It is unknown if Pinto Bean had any offspring, but if so, half of its kits would have inherited the distinctive piebald pattern, Schauber said. This condition is a genetic mutation that slows the rate at which melanocytes, cells that produce pigment, increase during embryo development. In this case, there was not enough of these cells to cover the animal, and patches of light and dark fur occurred.
This gene is prominent in many domestic animals, such as in tuxedo cats that have fur with a black and white pattern.
Pinto Bean's celebrity is an example of humans' innate need to bond with nature, Schauber said.
"Even in a human-dominated area, such as a college campus, people are experiencing nature around them in various ways and are connecting with that," he said. "This is just one instance in which students tend to make a connection with local squirrel populations on campuses all across the country."
Pinto Bean joins a variety of other natural history specimens and models on display in the Forbes Building lobby at 1816 South Oak Street in Champaign, including a great horned owl, songbirds, insects, reptiles, and amphibians. Fossils preserved in amber are also located there. The centerpiece of the lobby's display is a bison from Illinois in the 1870s.
—-
Media contact: Eric Schauber, 217-300-7827, schauber@illinois.edu
news@prairie.illinois.edu
This story originally appeared on the Prairie Research Institute News Blog. Read the original story.