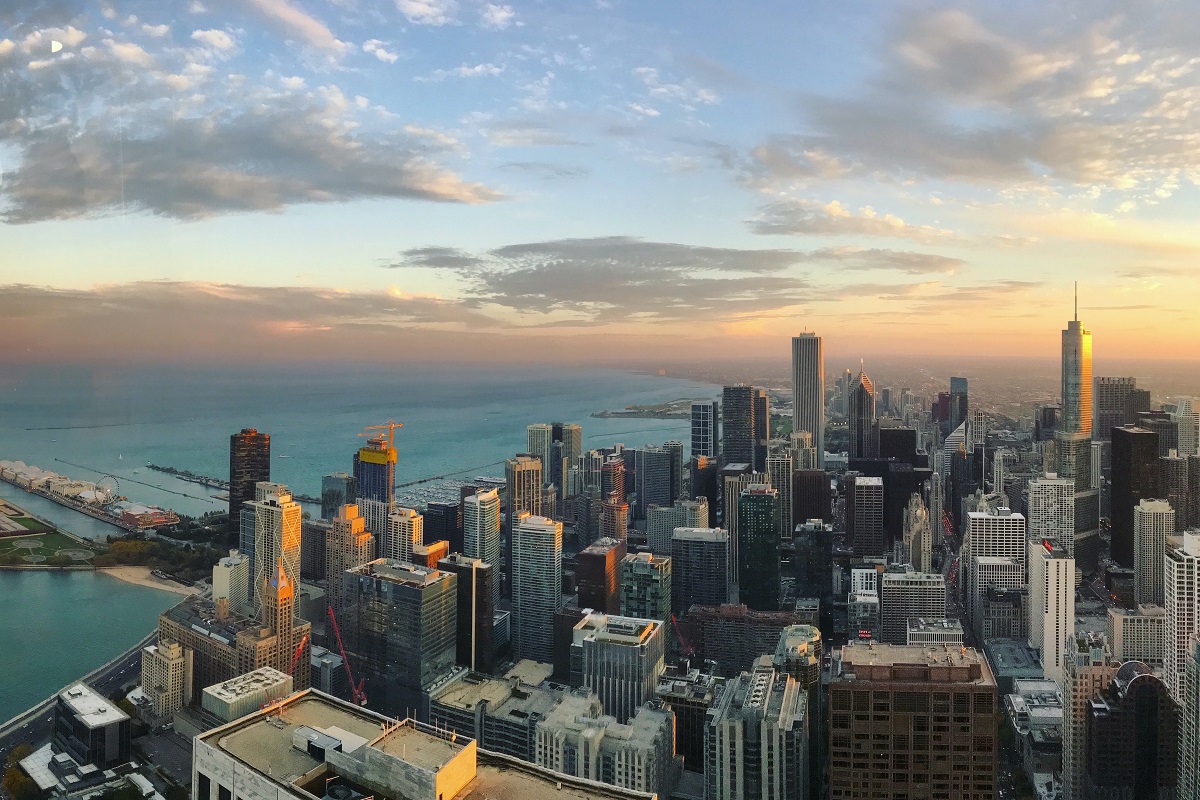 by Lisa Sheppard, Prairie Research Institute
Climate change affects cities, and cities affect the climate. Urban areas are hotspots for heat waves, flooding, and air pollution that ultimately affect human health and welfare. Scientists at the Illinois State Water Survey (ISWS) study the relationship between cities and climate to determine ways to make cities more resilient to these challenges.
"Heat waves are advancing now across the U.S., and even in moderate climates, the combined high temperatures and urban heat island effects make the impacts even worse," said Ashish Sharma, ISWS research climatologist. "The important drivers of climate change and characteristics unique to cities must be well represented in climate models to better understand the processes and tackle issues related to environmental, biological, and chemical hazards."
What sets urban areas apart from other landscapes are the enhanced effects from heavy precipitation, intense heat, flooding, fire safety hazards, and poor air quality. Winds blowing through street canyons may increase or decrease, affecting wind chills and heat indexes and ultimately climate at regional and global scales, given the large representation of urban areas. Temperature inversions in the atmosphere above cities affect visibility and air quality.
Accurately representing such factors in climate models would increase our understanding and ability to predict flooding, air pollution, and heat stress in certain parts of cities and aid in decision making related to infrastructure and integrating natural areas. The difficulty in including urban areas in numerical models is that cities are so complex in urban design and are impacted by multiple physical and social drivers, Sharma said.
"Researchers have focused on global, regional and microscale modeling separately as opposed to an integrated approach," Sharma said. "Also, at the urban scale, a lot of scientific effort has been compartmentalized and slow when what we need is urban-resolving integrated research focus from scientists and stakeholders who are invested in urban areas."
The scientific community studying climate modeling has been encouraged lately by an increase in funding from various government agencies. Sharma's recent study, The Need for Urban-Resolving Climate Modeling Across Scales, was motivated by findings from a workshop on Urban Scale Processes and Their Representation in High Spatial Resolution Earth System Models, which convened more than 60 international experts in urban issues and models. The U.S. Department of Energy, NASA, the National Oceanic and Atmospheric Administration (NOAA), and the Army Research Office funded the workshop and Sharma's subsequent study.
A primary recommendation in Sharma's recent study is to initiate observed-data-collection efforts to model temperature, precipitation, weather-chemistry interaction in the atmosphere, and water flow on the land surface. Chicago, for example, already has a network of sensors to detect weather and chemical composition for running urban climate models. Combining data-gathering initiatives with new machine learning technologies can yield reliable results at lower computations costs and faster speeds.
Public-private partnerships might play a role in moving this type of initiative forward. Sharma is part of the Center for Urban Resilience and Environmental Sustainability (CURES) at the Discovery Partners Institute that aims to connect researchers with industry and local stakeholders. This type of collaboration will potentially drive advancement in technology related to climate change.
"The gathered data and modeling results will help stakeholders and urban planners to design and implement actionable solutions, and make cities more resilient in a changing climate," Sharma said. "Rather than taking a reactive approach, we can take a proactive approach in predicting and preparing for what will happen with climate change, not only in the short-term future but also in the next 50 to 100 years."
This study was published in AGU Advances. Co-authors of the study are Donald Wuebbles, University of Illinois, and Rao Kotamarthi at the Argonne National Laboratory.
---
Media contact: Ashish Sharma, 217-300-8423, sharmaa@illinois.edu
news@prairie.illinois.edu
This story first appeared on the Prairie Research Institute News blog. Read the original story.