by Tricia Barker, Prairie Research Institute
Every week, the U.S. Drought Monitor releases a map showing which parts of the country are experiencing drought. The drought monitor is used to make critical decisions, such as disaster declarations, drought responses, and eligibility for assistance programs. 
While the U.S. Drought Monitor draws on multiple objective data indicators, like rainfall levels, it also relies on experts across the country, to synthesize and interpret this data and provide their local recommendations.Illinois State Climatologist Trent Ford coordinates the Illinois drought advisory team, which includes several scientists from the Illinois State Water Survey, representatives of the five National Weather Service offices covering Illinois, the director of the USDA Midwest Climate Hub, and other drought specialists.
The drought map is issued each Thursday and provides a snapshot of the past week's drought conditions. In order for the weekly map's author—one of several experts across the country who cover this role in shifts—to produce the drought snapshot each Thursday, they need to receive input from the Illinois team no later than Tuesday. That means Ford typically starts on Sunday to compile data and develop a draft recommendation for the Illinois team.
Sometimes, this is a quick process. For example, in the first quarter of 2020, Illinois was receiving lots of precipitation and had to worry more about flooding—all the data clearly indicated Illinois was not experiencing drought. But starting in late May and early June, the state has had some areas that were receiving little rainfall.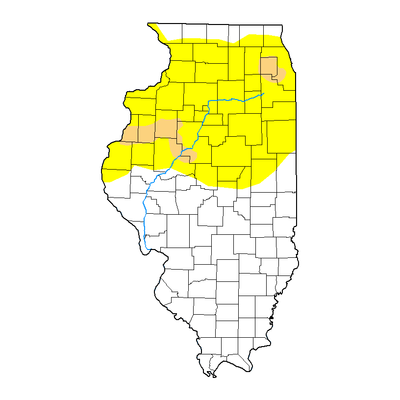 According to the U.S. Drought Monitor map released on Aug. 27, a few patches of Northern Illinois are experiencing "moderate drought" (light orange). The larger yellow region is considered abnormally dry, but not (yet) in a state of drought. 
"For most of this summer, we've had more involved discussions about what indicators are showing us for Illinois," Ford said. "When some indicators are pointing to no drought and some are pointing to drought, or when indicators are pointing to different severities of drought, that's when it's most important for our Illinois team to make recommendations to the author of the national map." 
The team draws on a wealth of objective data to make their recommendations. Precipitation data from weather stations, citizen scientists, and radar are key, of course, but rainfall anomalies, temperatures, soil moisture, streamflow, and the condition of crops and native vegetation are also taken into consideration.
Data and observations from citizen scientists, farmers, and other Illinoisans supplements the long-term data collected by the Water Survey and NWS. For example, more than 20,000 volunteers across the country contribute weather observations to the Community Collaborative Rain, Hail and Snow Network (CoCoRaHS), and Illinois farmers and gardeners often send Ford photos of the condition of their crops, lawns, and other vegetation. He considers all of this information in addition to the satellite remote sensing and his own observations of Illinois conditions.
Currently, Illinois is not experiencing the type of widespread, severe drought it saw in 2012, but the northern third of the state is dry and hot.
"We had spotty, heavy rainfall in July and August, so most areas of Northern Illinois have gotten timely enough rain to just skirt drought," Ford said. On the U.S. Drought Monitor map released on Aug. 27, most of Northern Illinois is categorized as D0—abnormally dry, but not yet in drought.
When temperatures surged into the 90s, the abnormally high heat evaporated the scant moisture reserves in some areas, pushing them into D1, or moderate drought.
"That's what we refer to as a 'flash drought', when the longer-term precipitation deficit is compounded by short but acute increases in temperature," Ford explained.
This post originally appeared on the Prairie Research Institute blog. View the original post.